With our rental apartments, housing services and active housing supply development, we create value for our customers, shareholders, other stakeholders and the surrounding society. The long-term development of shareholder value creates the foundation for our economic responsibility.
We are securing our future operations by managing risks in our cooperation networks, taking good care of the condition of our apartments and the tenancies and by innovating new services. A responsible way of working makes it possible to increase the number of rental apartments in growth centres.
Our goal is to create ecologically sustainable housing and urban structure that increases city vitality.
Kojamo's key strengths include Lumo rental apartments with good transport connections and services, service business development, systematic real estate development, good investment opportunities, and skilled personnel.
Long-term partnerships contribute to the implementation of responsible ways of working. We treat our partners equally and ensure that our suppliers' business operations are not too dependent on purchases made by Kojamo or on the operations of any other company.
We are a significant taxpayer. Read more.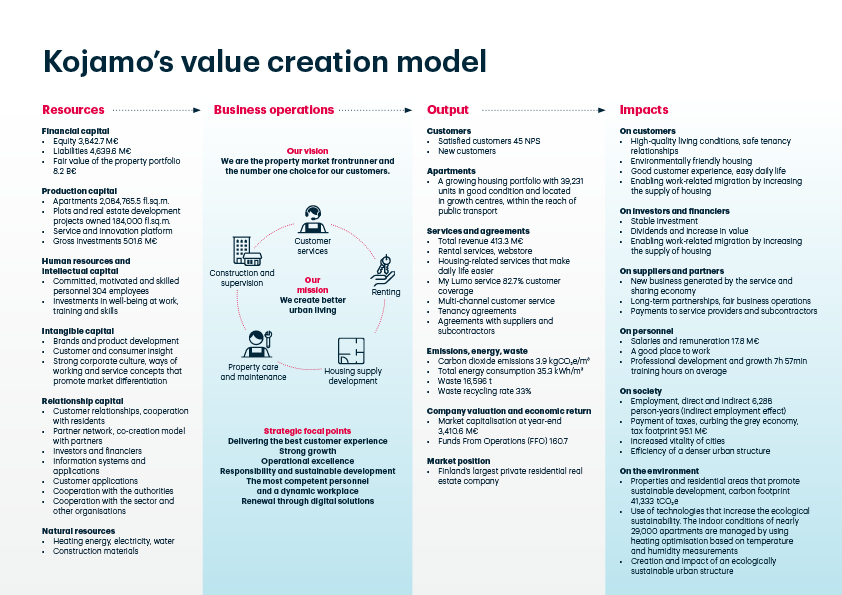 Page updated 6 March 2023