A responsible corporate citizen
We operate sustainably and transparently while developing our shareholder value in accordance with our strategy.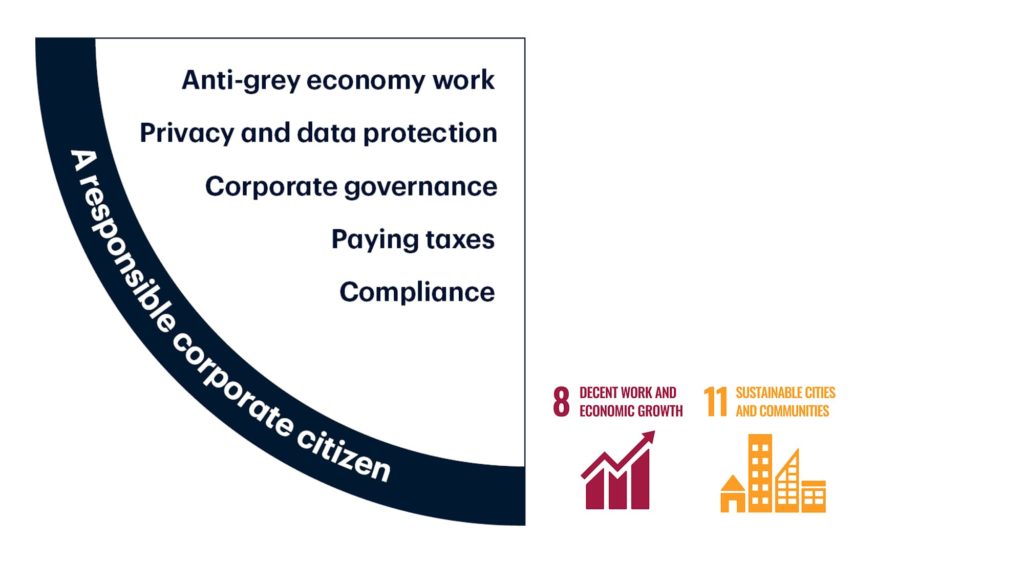 We have determined the following objectives for the Responsible corporate citizen focal point:
The sustainability of our business is based on our Code of Conduct. We aim to have 90% of our employees completed training on our Code of Conduct.
Our Supplier Code of Conduct will be incorporated into all of our new partnership agreements starting from 2021.
We have a zero tolerance policy for the grey economy.
All of our partners and supply chain participants are registered with the Reliable Partner service maintained by Vastuu Group Oy in accordance with the Contractor's Obligations Act.
We are a significant taxpayer and we pay all of our taxes to Finland. We report our tax footprint transparently.
We are a significant employer. Our employment effect extends beyond our own operations to partnerships related to construction, renovation, property maintenance and cleaning.
At each of our construction sites, we monitor the working conditions rate (TR -figure) to maintain a high level of occupational safety. Our target is TR > 90.
We have a zero tolerance policy for data protection violations.
We will do our utmost to ensure the data protection of our customers. We take a customer-driven and GDPR-compliant approach to all of our business operations.
The Lumo sponsorship and grant programme annually supports top Finnish athletes as well as individual and team sports for young people.
Page updated 2 December 2020