Operating environment and trends
As we operate in the residential real estate sector, the company is affected particularly by the situation in the residential property market and development in Finnish growth centres. The company is also affected by macroeconomic factors, such as economic growth, employment, disposable income, inflation, regional population growth and household sizes. (Ministry of Finance, Economic survey 12/2020)
The Ministry of Finance forecasts that the global economy will recover from the deep slump caused by the COVID-19 pandemic in 2021, mainly in the second half of the year. In Finland, economic growth is expected to be slow during the early part of the year, but growth will gradually accelerate as the pandemic eases up. Service consumption is expected to recover more slowly as consumer confidence strengthens gradually. The growth of private investments will remain weak in the early part of 2021 due to the uncertainty caused by the pandemic. These forecasts are based on the assumption that the incidence of COVID-19 cases will be pushed to a low level through the implementation of strict restrictions. The roll-out of vaccinations during the spring will lead to the gradual resumption of normalcy in society.
According to a business survey by the Confederation of Finnish Construction Industries RT, the number of residential start-ups decreased less than expected in 2020. The large number of projects launched before the COVID-19 crisis, construction sites remaining open and the wide-ranging stimulus measures throughout the economy supported construction during the year. According to housing production survey in November, construction companies are preparing for increased number of development start ups compared to last year. Nevertheless, residential construction is slowing down, especially outside the Helsinki Metropolitan Area. Residential construction is being slowed down by the lower availability of financing and the continuing economic uncertainty. Residential production is expected to amount to less than 31,000 apartments in 2021, which is lower than the annual need for new apartments.
Housing sales recovered quickly from the brief decline seen in the spring, and the prices of apartments have not decreased due to the COVID-19 crisis. Investor demand is expected to remain unchanged and the growth in the supply of rental apartments will continue in growing regions.
Trends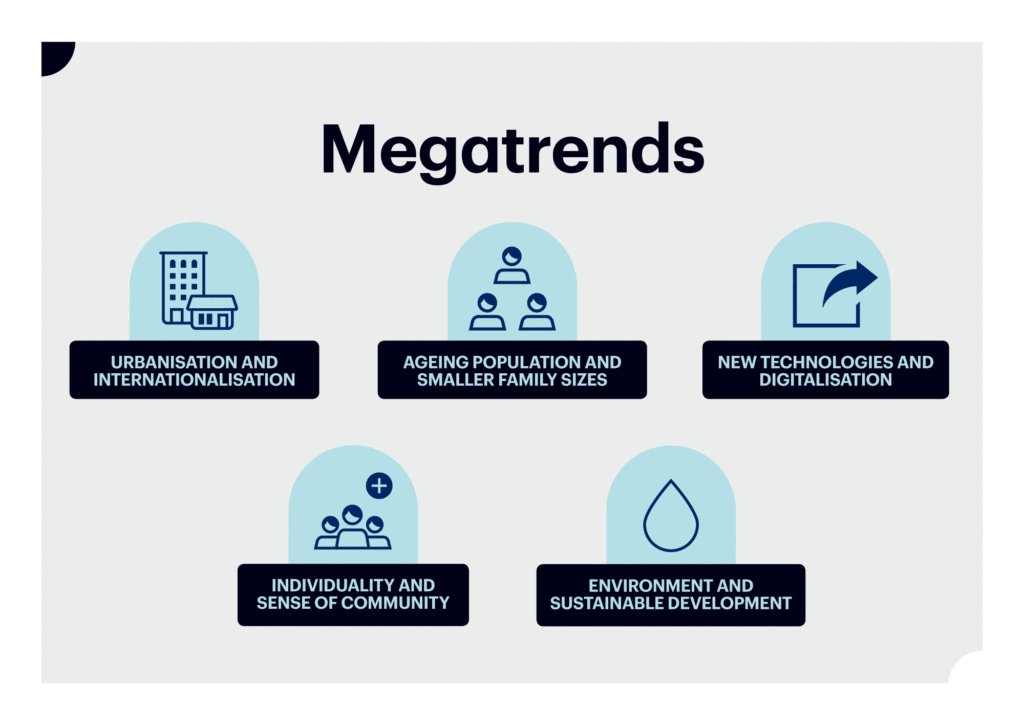 Kojamo responds to the trends of urbanisation, digitalisation and communality in accordance with its strategy, providing its customers with apartments with good locations and services that make daily life easier, increase the attractiveness of housing and improve the sense of community. Our aim is to maintain a networked service platform that will enable agile innovation implementation in cooperation with other operators. Kojamo's properties serve as a platform to which the new services can easily be connected.
Page updated 18 February 2021