The best customer experience
We work to promote better and more sustainable urban housing. The Lumo brand delivers our residents the best customer experience in housing.Our main objectives are satisfied residents and increasing our Net Promoter Score (NPS).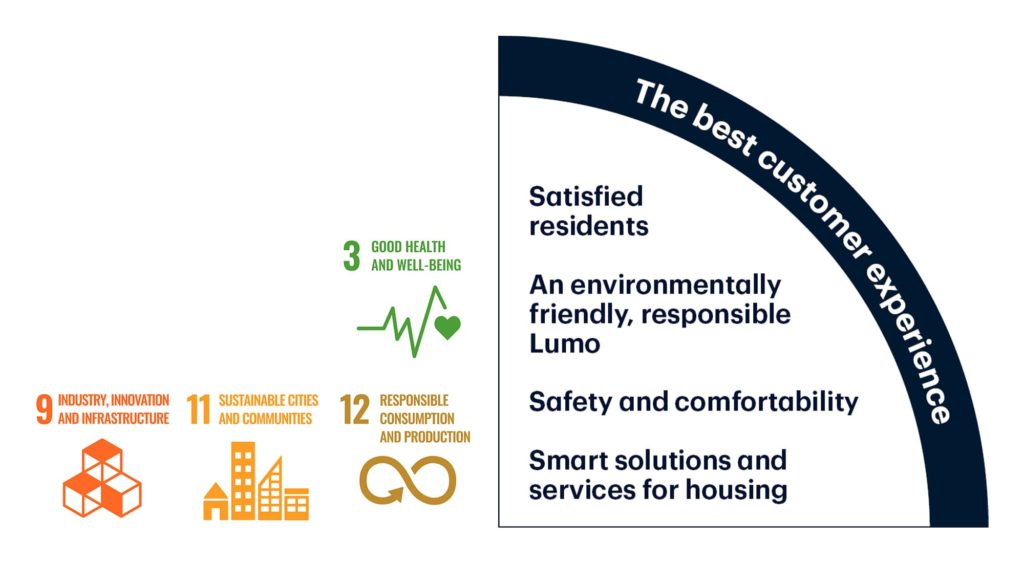 We have determined the following objectives for the Best customer experience focal point:
By the end of 2023, the score awarded by our residents

for the safety and comfort of Lumo homes will be 4/5.
for the convenience and functionality of waste sorting and recycling at Lumo homes will be 4/5.
for the ease of Lumo homes' communication regardless of the service channel will be 4.5/5.
for Lumo homes' services that make daily life easier and promote sustainable housing will be 4/5.

By the end of 2023, 90% of our households will use My Lumo application.
By the end of 2025, all of our properties will have lighting that is energy-efficient, adequate and increases safety.
We will enhance waste sorting by our residents and annually reduce the total volume of mixed waste. By 2025, at least 80% of Lumo homes will have a sorting solution that supports four waste fractions.
By the end of 2025, at least 70% of the home appliances in our properties will have a high energy efficiency rating.
By the end of 2025, the opportunity to use a shared vehicle will be available for all of our properties.
We will continue to implement our Through the Customer's Eyes programme.
We will ensure that the indoor environmental conditions of our apartments are healthy.
We will promote the sense of community in housing through our active Lumo teams.
We will introduce more services promoting sustainable housing and our residents' well-being.
Page updated 2 December 2020