We are committed to improving the energy efficiency and reducing greenhouse gas emissions of our operations. Our property portfolio will operate at net zero carbon by 2030. We are a signatory of the WGBC Net Zero Carbon Buildings commitment. We will enhance the efficiency of our energy consumption by 7.5 per cent by 2025, using 2016 as the baseline (VAETS II).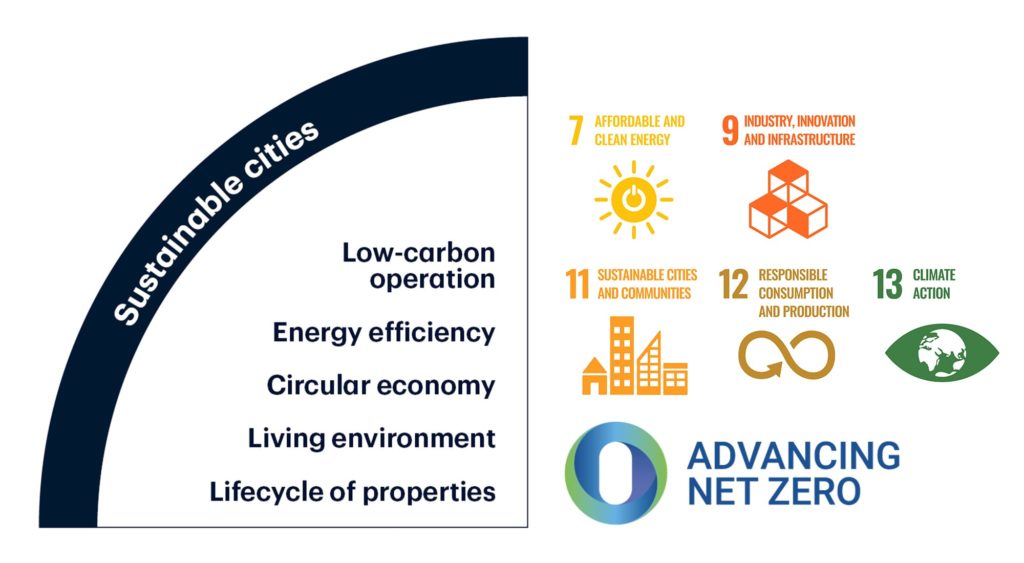 Sustainable cities – targets of the focus area
Low-carbon operation and life-cycle of properties
Our target is to achieve carbon-neutral energy consumption for our property portfolio by 2030.
The property electricity used by our property portfolio is 100% carbon-neutral.
Starting from 2020, we calculate the full life-cycle carbon footprint for chosen new construction projects.
Energy efficiency
We will increase the efficiency of our energy consumption by 7.5% by 2025, using 2016 as the baseline (VAETS energy efficiency agreement).
We will reduce energy consumption by 3% annually, as measured by the heat index.
All of our own new property development projects that entered planning phase in 2021 will be executed with a target E-value of ≤80.
All of our major renovation projects will achieve a relative improvement in energy efficiency of at least 30%.
We will reduce water consumption by 5% by 2030, using 2019 as the baseline.
We will control and optimise the indoor temperatures of our property portfolio using an AI solution, based on actual temperatures and weather forecasts.
Circular economy
We will improve the waste recycling rate of our properties to 55% by the end of 2023.
In both new property development and renovation, we aim to sort and recycle more than 70% of the waste generated during construction by the end of 2023.
Sustainable development of the living environment
We invest in growth centres, in locations with good public transport connections and services.
The environmental responsibility of our own operations
All of our offices are WWF Green Office certified. As part of our Green Office activities, we reduce the environmental impacts caused by the work environment of our personnel.
As part of our goal of becoming carbon-neutral, we have joined the Net Zero Carbon Buildings Commitment of the World Green Building Council (Net Zero Carbon Buildings 2030 -Commitment).
We want to take action to restrain climate change by improving the energy consumption of our property portfolio and reducing its carbon footprint.
See our commitment here (pdf).
Page updated 23 February 2023