Organisation and management
Our team of approximately 300 professionals works in the areas of customer management, investments and property development, as well as supporting functions. The different parts of the organisation work closely together and share the Group's goals.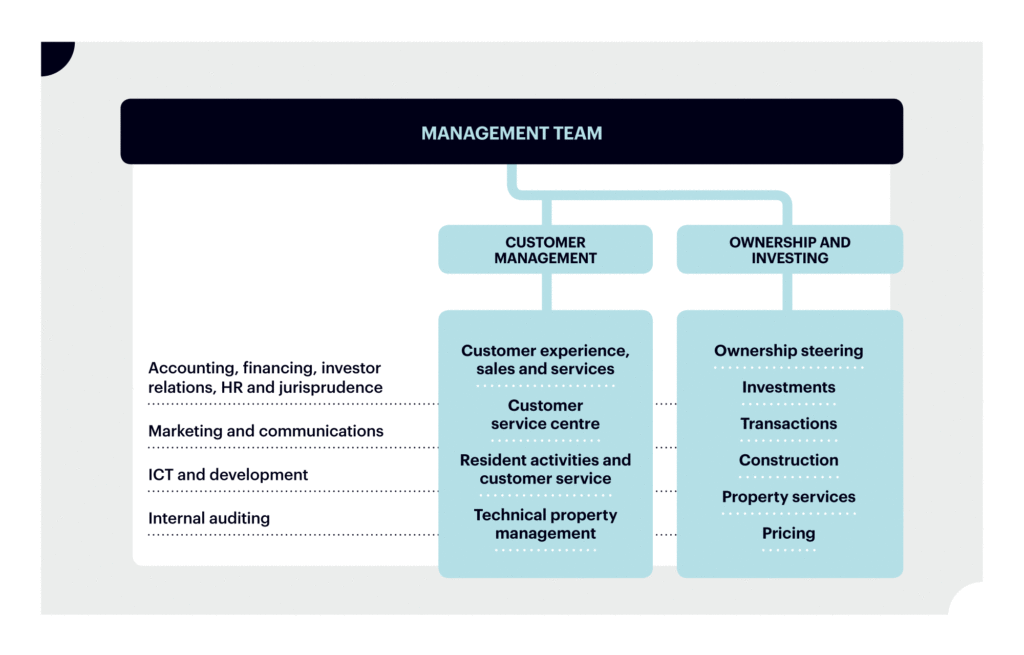 CEO
The CEO is responsible for the company's business in general and the achievement of objectives, as well as the company's governance in accordance with the Board of Directors' instructions.

Customer Management
The Customer Management function is responsible for customer experience and sales and services. Customer Management also handles tenant cooperation, rental control and housing advisory services, as well as technical property maintenance and renovation operations outside the Helsinki Metropolitan Area.
Investments
Investments department is responsible for internal ownership steering, real estate development and transactions.
Accounting, Financing and Administration
The Finance department produces the financial management and financing services required in the steering of the Group's business operations. The department consists of the financing, Group reporting, financial services and HR units.
Marketing and Communications
Marketing and Communications function promotes the brand awareness and appeal of the Lumo brand. The function's primary tasks include brand building and reputation management.
Strategic Development
Strategic Development works with other departments to develop the Group's functions. The quality and development unit promotes the Group's quality management. The information management unit promotes the Group's competitiveness and productivity through the use of information systems.
Read more about our Management Team on our investor pages.
Page updated 2 May 2020