The most competent personnel and a dynamic workplace
We are known for our dynamic and productive corporate culture and sustainability plays an important part in the work of everyone at Kojamo. We ensure our competitiveness through competence development and provide an employee experience that attracts the best talent. Our aim is to create a first-class employee experience through good management, by investing in employee well-being and promoting equality and non-discrimination.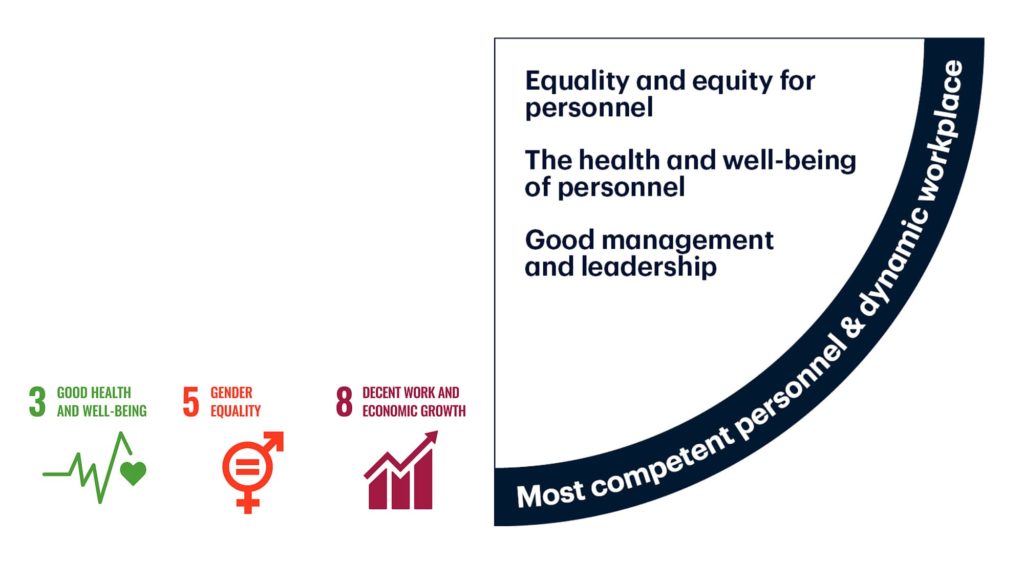 The most competent personnel and a dynamic place to work – targets of the focus area
Equality and equity for personnel
We promote gender equality amongst our personnel. Equal and fair operating models are applied in all functions and job roles.
We have a zero tolerance policy for harassment and inappropriate conduct.
We promote the equal treatment of our personnel throughout the employment relationship, starting from recruitment.
The health and well-being of personnel
We continuously invest in the well-being of our employees and provide our employees with benefits related to well-being.
Our target is to reduce the sickness-related absence rate of our personnel to <3% by 2023.
Our target is zero accidents. We will take action each year to improve occupational safety and the safety of commuting.
We will ensure our competitiveness by developing the competence of our personnel.
Good management and leadership
The perception of our personnel is that our management and supervisory work is of a high standard.
We take a development-driven approach to management and encourage our personnel to emphasise renewal and learning.
We manage our corporate culture towards our set targets in accordance with our strategy.
We participate in the Responsible Summer Job campaign with the aim of achieving a high level of employee satisfaction among summer workers.
We will be the most attractive and highly-valued employer in our industry.
Page updated 1 March 2023