Vision, strategy and values
We create better urban living.

Our mission
We are the property market frontrunner and the number one choice for our customers.

Our vision
Strategic focus areas for 2023
Strategic focus areas for 2023 are
Delivering the best customer experience
Strong growth
Operational excellence
Environment and sustainable development
The most competent personnel and a dynamic place to work
Renewal through digital solutions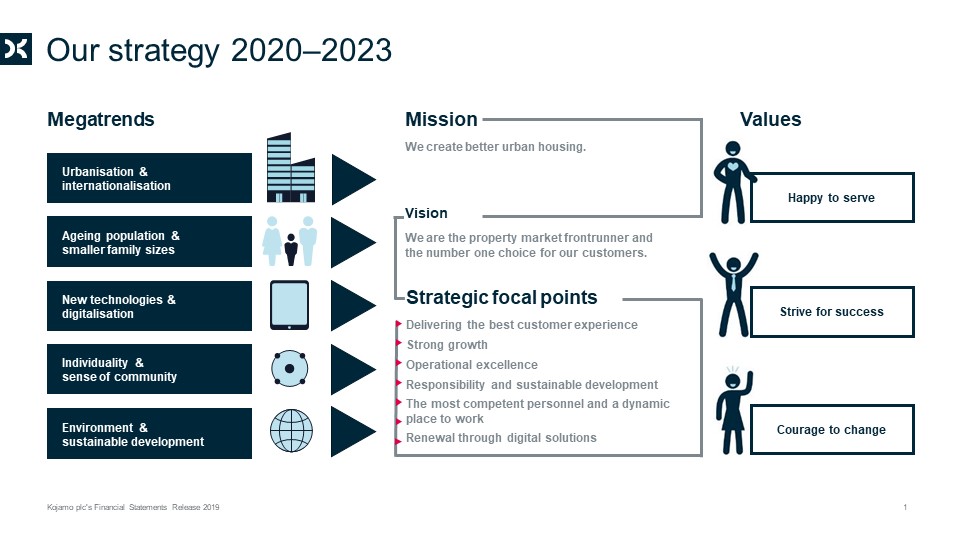 In accordance with our strategy for 2023, our total revenue will increase from one year to the next through the Like-for-Like growth of rental income as well as new investments. Our growth investments are allocated to new development, the conversion of properties to residential use and the acquisition of completed residential properties. Kojamo has the capacity to pursue growth with a multi-channel approach and quickly react to opportunities thanks to our optimised financing structure. Our strong balance sheet key figures enable the execution of our growth strategy. We also support the growth of total revenue through services and new initiatives that generate added value for our customers.
In the area of digital development, our aim is to create easy and convenient services for our customers along with new added value-added services, utilise technology in housing and property maintenance and implement solutions that make the work of our personnel easier. We will continue to improve our business and create added value for our customers and employees by taking advantage of solutions enabled by digitalisation.
To be successful, we must have a strong understanding of our various customer segments, target our offering appropriately and effectively manage our network of partners. We want to deliver the best customer experience for our customers.
We want to create competitiveness and profitability through industry-leading operating models, which is summarised in our strategy as operational excellence. We aim to innovate and continuously improve our operations.
Responsibility is a part of everyone's work at Kojamo
We want Kojamo to be known for its dynamic and effective corporate culture and for how responsibility plays an important role in the work of everyone at Kojamo. This is reflected on various levels of our operations, including our business operations, working conditions and the customer interface. For example, we take environmental impacts into account right from the property development phase, and all of our new construction projects utilising the company's own plot reserves will be nearly zero-energy buildings in accordance with FInZEB concepts and guidelines. All Kojamo offices are WWF Green Office certified.
For our customers, we offer popular car-sharing services and extensive opportunities for recycling, among other things. We will continue to invest in responsible and innovative operating principles and transparent reporting. It is a priority for us to ensure our future competitiveness through competence development and to deliver an employee experience that attracts the best talent in the industry.
Our operations are strongly based on our values:
Happy to serve
Our service is high-quality, professional, friendly and respectful of the customer. We want to listen to and understand the customer and solve the customer's needs. We treat and serve each person as an individual. We earn our customers' trust each day.
Strive for success
We want to always do things better, achieve results and accomplish our goals. We bear responsibility for our work and we take pride in our results. We value each other's expertise and we work together. We encourage each other. We recognise each other's strong performance. We keep our promises.
Courage to change
We have an open-minded attitude towards change. We dare to look for new ideas and best practices by challenging conventional ways of working. Development includes experimentation and we are not afraid to try new things. We learn from our mistakes. We are also a pioneer in the use of new technologies. Renewal requires that we continuously learn new things.
Page updated 23 February 2023