Kojamo plc Press release 21 May 2021
Lumo homes conducted a survey in Lumo.fi in April, and nearly 4,000 respondents participated in the survey. According to the Home and Services survey, respondents want to choose rented housing and are satisfied with their housing choice. Housing services increase the comfort of life: a well-equipped yard area, a private parking space and small renovation and interior design services related to the tuning of the apartment become the most popular.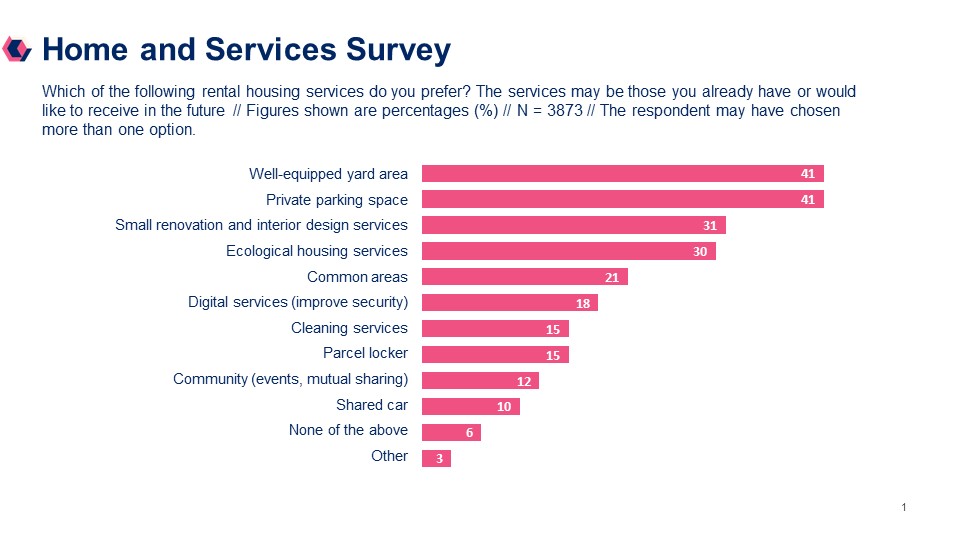 Lumo homes conducted a survey in Lumo.fi on homes and housing services for nearly 4,000 respondents. Based on the results, housing services can increase living comfort: many of the respondents mentioned a well-equipped yard, own parking space and small renovation and interior decoration services as their favourite services.
A well-equipped yard is the most important housing service for families: over half of the respondents with children chose a yard with facilities as the most important service. Own parking space is important particularly for couples and families. The third most popular choice, small refurbishment and cleaning services, is particularly popular among senior citizens. Digital services that improve security appear on the list of respondents immediately after the common areas.
Around one-third of the respondents, under 34-year-olds in particular, are interested in ecological housing services, such as apartment-specific temperature control and parcel lockers.
Satisfied residents in rental homes – freedom and ease of switching as pull factors
The survey by Lumo homes among rental dwellers also reveals that the majority of residents in rental homes are satisfied with their mode of living and only a few are considering buying an owner-occupied apartment. The ways of living are changing in Finland, and more and more Finns choose to rent: only 15% of the respondents are planning to move to an owner-occupied apartment within the next three years. The majority (88%) of the respondents think rental housing is more flexible and convenient compared to owner-occupied housing.
The popularity of renting has increased strongly in the 2010s, and it has become a desirable choice. For example, switching homes because of a new situation in life or a new job is easier.
The ease of switching is the most valued feature of rental housing (43% of the respondents), particularly among respondents under the age of 34. Moving from one Lumo home to another is extremely easy, and the flexible home switching services help the residents if their situation in life changes.
The respondents living in Helsinki appreciate the opportunity to live in their favourite neighbourhood thanks to rental homes. The living environment increases the feeling of security among the respondents living in rental homes. In particular, over 65-year-old respondents and families with children appreciate a sense of community and knowing one's neighbours.
Remote working space and private balcony are on top of the wish list
When the respondents were asked how the COVID-19 pandemic has affected their housing needs, the most common response was extra space and better remote working facilities. One-third of the respondents said that the pandemic had affected their apartment-related wishes. The need for extra space and better home office facilities were the most common wish resulting from the COVID-19 pandemic. Around 14 per cent of the respondents hoped they would have a separate home office. The pandemic also made many respondents hope they would have their own balcony or yard and better outdoor recreation and sports facilities near their home.
Elderly respondents in rental homes (over 65-year-olds) miss services that build the sense of community, such as events and sharing. Familiar neighbours and a greater sense of community increase the feeling of security, particularly among senior citizens and families with children.
The survey was conducted by Lumo homes on the lumo.fi website in April 2021. A total of 3,873 people responded to the survey.
Irene Kantor, Chief Marketing and Communications Officer, Kojamo plc, tel. +358 20 508 3589, irene.kantor@kojamo.fi
Kojamo is Finland's largest private residential real estate company and a frontrunner in the housing business. Our mission is to create better urban housing. The Lumo brand provides environmental-friendly housing and services in Finland's biggest growth centres. We actively develop the value of our investment properties by developing new properties and our existing property portfolio. We want to be the property market frontrunner and the number one choice for our customers. Kojamo's shares are listed on the official list of Nasdaq Helsinki. For more information, please visit https://kojamo.fi/en/.