Kojamo annually rewards the summer worker of the year. This year, the special mention went to two accounts payable officers for their operation in line with Kojamo's values and exemplary teamwork.
The accounts payable officers selected as the summer workers of the year, Anna Gebel and Gerli Viljak, were both surprised by the choice, although they acknowledge that their teamwork during the summer has been excellent.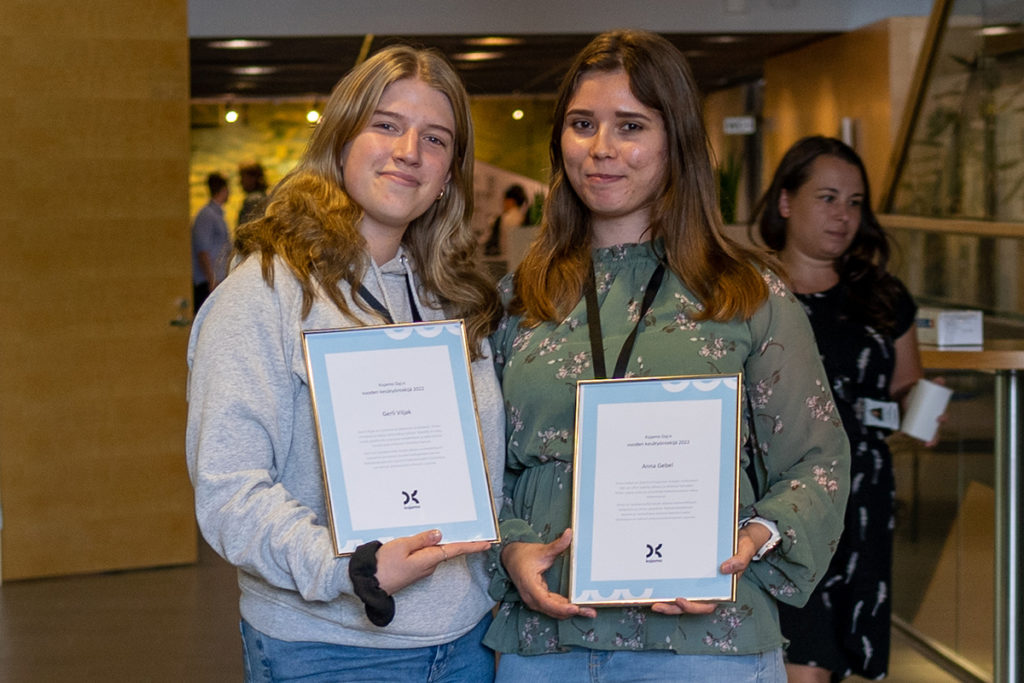 "We have a great team! Everyone is so approachable and we always help each other. You can ask anything at a low threshold and there is an answer to every question," says Anna.
Their supervisor, Accounts Payable Manager Sanna-Leena Peussa, says that both Anna and Gerli operated in accordance with Kojamo's values and were an efficient pair and an important part of the team.
"Anna has been very hard-working and efficient. She has a good understanding of the big picture, a solution-oriented attitude and a calming presence even in challenging situations," Sanna-Leena says, and continues:
"Gerli, on the other hand, has an incredible ability to create positive energy around her and a knack for getting along naturally with different kinds of people. Both of my team members have the same solution-oriented attitude, which has made cooperation particularly smooth."
Both joined Kojamo as summer workers for the first time, but had applied to the company for several years. Their preconception of Kojamo as an employer proved to be correct and all expectations were fulfilled. Gerli had the impression that the summer workers of previous years had enjoyed working for the company. Anna applied to Kojamo because she had heard that Kojamo has an excellent working atmosphere.
"I was surprised by the low level of hierarchy at Kojamo, given that it is a big company. Here, summer workers really are equal to permanent employees," says Anna.
"I'm really happy that our input is truly appreciated," Gerli says.
Anna and Gerli will continue their studies in the autumn. Working in Kojamo's accounts payable unit has supplemented both of their studies in financial management very well.
The summer workers of the year were rewarded at the closing event of the idea competition.