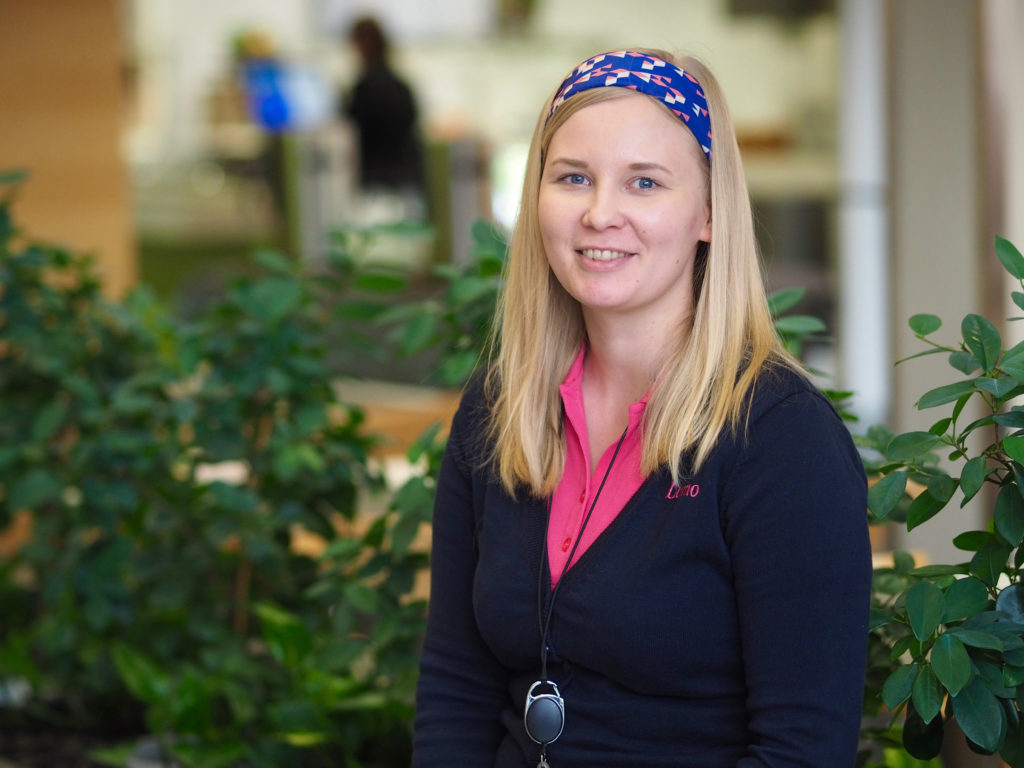 Johanna Nissinen works as a service advisor at the customer service centre at Kojamo's headquarters in Helsinki. Johanna is a 24-year-old economics student from Vantaa. She ended up working at Kojamo as a summer employee thanks to her current manager's suggestion.
-Back in the day, my current manager suggested I apply for a summer job when they opened the customer service centre in 2014. And here I still am! Johanna says.
Johanna had previous experience in customer service from her earlier summer jobs, but the real estate field was unfamiliar to her. However, thanks to a proper orientation, she learned everything she needed on the job.
Colleagues and working environment are the best part
Johanna works in the customer service centre, where customers are served mostly via phone or email. A lot of the questions come also through chat and social media, and some of the customers still prefer the more traditional way of visiting the office.
– I like my job because I get to meet different kinds of customers. The work is also suitably challenging, as each case is different, Johanna says.
Johanna thinks that colleagues and the working environment are the best part about working as a service advisor.
– My colleagues are wonderful, and the company takes really good care of each employee. It creates a good foundation for high-quality work, Johanna says.
"Kojamo is a really good place to work"
Johanna has worked in Kojamo for already four summers, the latest two of which full time. She compliments the company for being a fair employer.
-Kojamo is a really good place to work. People care about you, and your colleagues are always there to help if things go south. I have also noticed that it is possible to get more responsibility by doing your job well. The managers let people work at their own pace and ensure that there is a relaxed atmosphere, Johanna says.
Customer service close to heart
In her job, Johanna is motivated by the fact that employees are cared for. There are many things at the office that help employees stay in shape.
– At the gym you can take care of your body, the delicious food at the canteen satisfies the stomach and ergonomics has also been taken into consideration, Johanna says.
Johanna really enjoys customer service and making customers happy.
-I received good feedback from a customer and our Director of Customer Relations rewarded me and a couple of my colleagues with tickets to the Flow festival. It gives me a lot of extra energy to perform well in my job, Johanna says with a smile.
Are you interested in working as a customer advisor? Apply for a summer job at: kojamo.fi/kesatyo.
Kojamo plc offers rental living and housing services in Finnish growth centres. The vision of the housing investment company is to be a pioneer in housing and the number-one choice for our customers.