Diverse career paths are common at Kojamo. Approximately one quarter of job vacancies are filled by using internal recruitment. Many vacancies are not even opened for external applicants. Internal recruitment provides employees with excellent development opportunities and a way to learn the business from many different angles. Career paths do not always mean upward progress; they can also involve switching to completely different duties.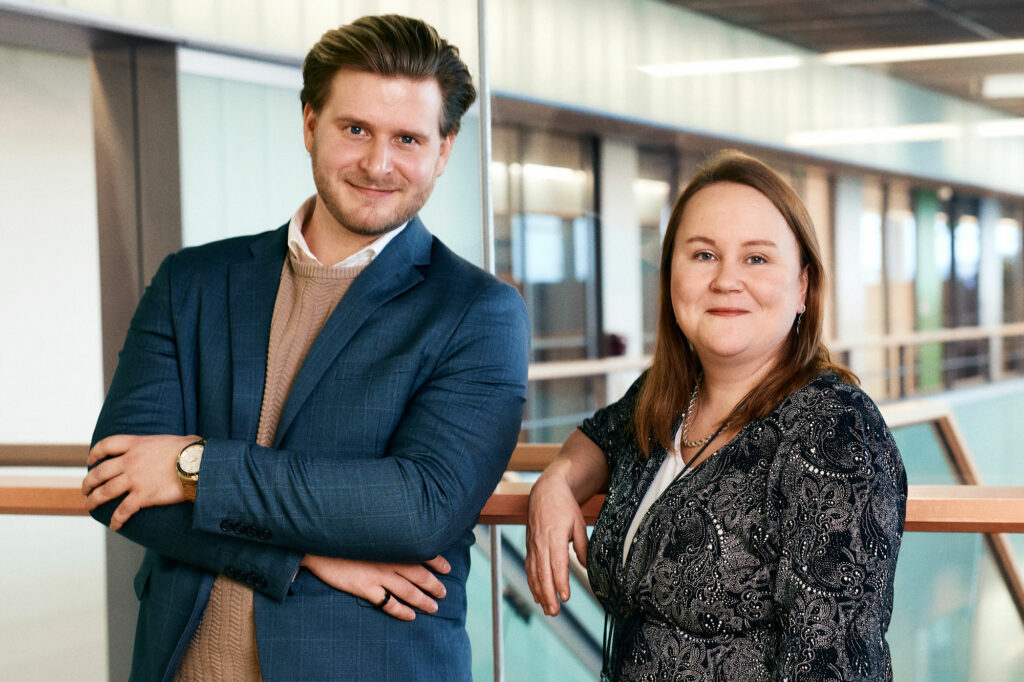 According to Sales Manager Taina Repo, internal recruitment has various benefits.
"Each applicant goes through a normal interview process that includes a constructive discussion on their competencies and strengths. Based on those discussions, we may even determine that the person's current job is the best role for them at this time, but since they are applying for a new position, the situation provides an opportunity to discuss whether some new content could be introduced to their existing job," Taina Repo explains.
Repo is pleased that everyone is given the opportunity to advance their careers within the organisation. She joined Kojamo as a sales representative in 2016 and first participated in an internal recruitment process a couple of years ago. The outcome of the process was that it was not the right time for her to move on to a new position. She felt that it was the right decision.
She then spent one more year in the same role, and when the next internal recruitment opportunity for a Sales Manager position came up, she was selected for the job.
"I went from being an team member to a team leader," Taina says contentedly.
A summer job can serve as a launching pad for a career
Casper Westerinen's career path started with a summer job in building management in 2018. He was not a complete stranger to the property sector, as he had previous experience in real estate sales. Soon after he joined Kojamo as a summer worker, Casper was offered a permanent position. In 2019, he completed a vocational qualification in building management while continuing to work.
"Learning is a lifelong process and studying while you work is certainly possible, although taking on a permanent position meant that I had to put an end to my studies at Metropolitan University Prague," Casper Westerinen says.
"I went in at the deep end, as I was given a portfolio of about 20 properties to manage. In hindsight, it was very beneficial as I learned all of the important aspects of the job in one go," Casper adds.
According to Casper, there is always help available at Kojamo, and the employees can rely on an extensive support network. "Working as a property manager is rewarding and sometimes stressful, but your co-workers are always there to support you. We have a really strong team spirit, and everyone does their share," Casper says.
Step-by-step progress
After being responsible for 20 properties in eastern Helsinki, Casper's next step was to manage properties in Helsinki's city centre. This added more administrative affairs to his learning path, including work on boards of directors and becoming familiar with agreements concerning joint arrangements.
Casper has also been closely involved in Kojamo's use of the cell approach, which brings together the property managers, sales representatives, presenters and technical managers from a given area. The customer cells hold regular workshop-style meetings to discuss concrete ways for renting out apartments, maintaining properties in good condition and ensuring that the residents enjoy living in their Lumo homes.
"The aim of the cell approach is to enhance our industry-leading customer experience," Casper explains.
When construction began on Kojamo's Lumo One skyscraper in Kalasatama, Casper was given the
responsibility for its property management. "Lumo One is our crown jewel. The successful property management of Lumo One meant that, in November 2022, I was promoted to Head of Property Management in the Espoo, Helsinki, Kauniainen, Kirkkonummi and Porvoo areas," Casper says enthusiastically.
"I want to be the best at my job and making rapid progress in my career has only increased my motivation. What I like best about my work is continuous learning and keeping an eye on my personal development. It is very rewarding to see that I have contributed to our collective successes. I now manage a team of 18 people, so my focus has shifted from my own performance to the performance of my team as a whole," Casper adds.
As the cherry on the cake, Casper won Kojamo's Employee of the Year award for 2022.