Delivering the best customer experience is one of Kojamo's strategic focus areas, and the customer experience is continuously being developed through extensive cooperation between the different departments of the organisation. Since autumn 2021, cooperation at the customer interface has further intensified after the introduction of the cell approach.
The purpose of area-specific customer cells is to bring together the property managers, sales representatives, presenters and technical managers for a given area. The customer cells hold regular workshop-style meetings to discuss concrete ways of renting out apartments, maintaining properties in good condition and ensuring that the residents enjoy living in their Lumo homes. The use of the cell approach has got off to a good start, and cooperation between building management and sales has improved significantly.
"Thanks to the cell approach, all parties working with residents know what is going on at the properties and what is being planned," says Anssi Tikkanen, Head of Building Management.
Different perspectives towards a common goal
At their meetings, the cells monitor, for example, the development of renting, apartment repair costs and resident satisfaction, as well as the impact of the measures agreed in previous meetings on these matters on a property-specific basis. In addition to the meetings, the cells also continuously communicate with one another on topical issues in their own communication channels.
Sales Representative Roosa Ruuhijärvi, Property Manager Casper Westerinen and Technical Manager Reima Kettunen work together in the Capitals cell, which is responsible for properties in central Helsinki. According to the trio, the cell approach has been a very positive addition to their work.
"It's really useful to get a chance to see things from someone else's perspective. The approach of a sales representative differs quite a lot from that of a property manager, for instance," Ruuhijärvi says.
The cell meetings provide a very comprehensive picture of the properties and their development areas, and this information is communicated to the representatives' own teams. Information is also exchanged between cells, and tried-and-tested practices are passed on from one cell to another. Delivering the best customer experience is a common goal for everyone.
"All parties working with customers engage in a lot of cooperation, even though we're mostly in contact with our own cells," Westerinen says.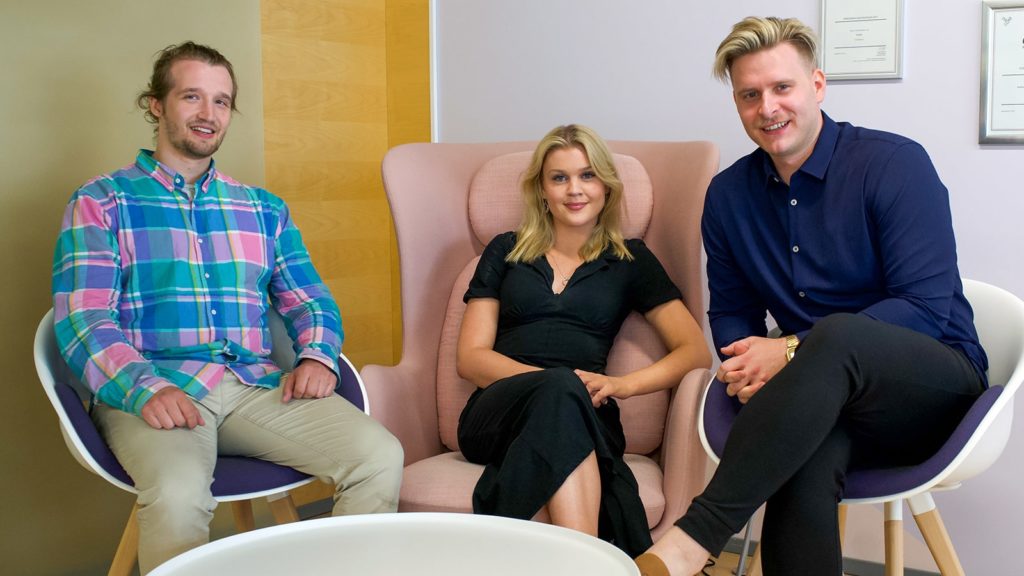 Efficient cooperation
Before the cell approach was introduced, cooperation was carried out in larger groups. The division of activities into smaller, area-specific cells has increased agility and improved internal communication as all those moving around the same properties can share ideas and observations with each other. Smaller groups also make it easier to get to know each other, and the threshold to ask a friend is lower than before.
"You can really see that things get dealt with more efficiently in small teams. It's also nice to know right away who to send a message to if you have questions for the sales team, for example," Kettunen says.
By putting their heads together and brainstorming, the trio has been able to develop properties in concrete terms, and results have also been seen. Problems can often be solved with small improvements, as long as it is first figured out together what those small improvements are.