Lumo homes and 24Rent have agreed to expand their cooperation: Lumo residents now have access to all of 24Rent's more than 700 shared cars in more than 30 cities and municipalities around Finland. Lumo offers its residents a free membership in the carsharing service's loyalty programme and rewards residents for eco-efficient driving.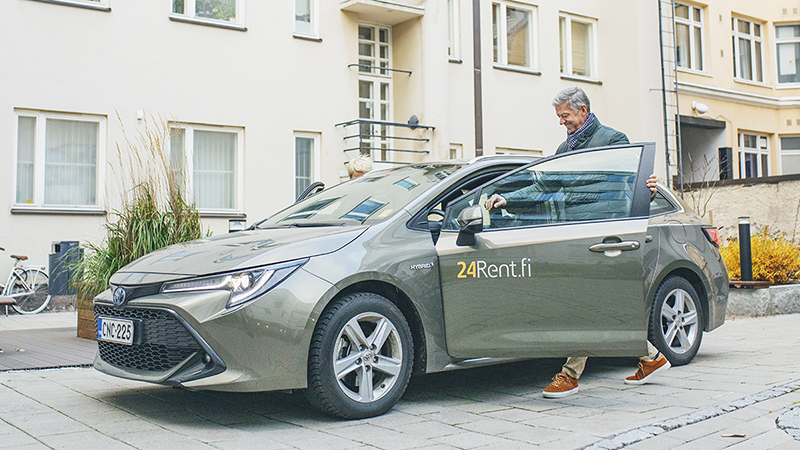 Lumo homes and 24Rent piloted carsharing as part of responsible urban living for the first time in 2015. With the growth in demand and the focus on responsible operations, the service has been expanded over the years – to cover today more than 700 shared cars from the 24Rent selection.
Additional mobility service for the residents of Lumo homes
As part of easy and effortless urban living, Lumo offers its residents a range of housing services that make their lives easier. The shared cars are one example of the comprehensive range of Lumo services.
Using shared cars is easy. The car can be picked up near your home or wherever you need it, 24/7. There are both passenger cars and vans available, including chargeable models. Cars can be booked via the My Lumo online service and pickup is done using a phone.
"The carsharing service provides Lumo residents with mobility options, complements public transport and promotes Lumo homes' responsibility goals. The service provides access to lower-emission cars for more residents," says Lauri Peltonen, Director of Lumo homes' Housing Services Unit.
Residents of Lumo homes automatically have free membership in the 24Rent service's loyalty programme and only need to pay for the car according to usage. In addition, carsharing is rewarded—even after a few times of renting a car, the resident receives a gift voucher, which can be used for the next rental.
"We are also adding shared cars to Lumo buildings this autumn," Lauri says.
The carsharing concept was developed in collaboration with 24Rent
24Rent is responsible for the operation and booking, insurance, maintenance and tire changing of the shared cars used by Lumo residents. The carsharing concept has been developed in collaboration.
"The deepening of our cooperation will enable environmentally friendly carsharing for a wider range of customers. Our goal of electrifying our fleet is also taking a step forward with Lumo's locations," says Matti Hänninen, CEO of 24Rent.
For more information, please contact:
Lauri Peltonen, Director of the Housing Services Unit, Lumo Homes
tel. +358 20 508 3051, lauri.peltonen@lumo.fi
Matti Hänninen, CEO, 24 Rental Network Oy
tel. +358 9 4245 1481, viestinta@24rent.fi
Kojamo is Finland's largest private residential real estate company and one of the biggest investors in Finland. Our mission is to create better urban housing. Lumo offers environmentally friendly housing and services for the city dweller who appreciates quality and effortlessness. We actively develop the value of our investment properties by developing new properties and our existing property portfolio. We want to be the property market frontrunner and the number one choice for our customers. Kojamo's shares are listed on the official list of Nasdaq Helsinki. For more information, please visit https://kojamo.fi/en/.