Helsinki and its neighbouring cities constitute Finland's only metropolitan area. It is comprised of dozens of urban and suburban centres, with people commuting between them for work and hobbies. The smartest way to connect the city centres, with respect to traffic flow and the environment, is heavy rail in the form of either trains or metros.
Using rail transport, people can conveniently access services even without having a car of their own. This allows them to live in less central locations where apartment prices and rents are lower than in the city centre, and in living environments that are close to nature and offer good opportunities for sports and recreation.
It is therefore no surprise that the zoning of the Helsinki Metropolitan Area is guided by the objective of developing the urban structure towards a network city based on public transport. This will lead to the increased construction of housing and services in areas with good rail connections, which are now the focus of housing development. More apartments are being built in districts served by the metro, while suburbs located along existing rail services are being condensed. Entirely new districts will rise along the West Metro and its subsequent extension, as well as the Ring Rail Line introduced in summer 2015.
Increased residential development in areas served by trains and metros will also lead to growth in the supply of services in those areas. The areas around stations are becoming retail centres that provide more diverse services for local residents.
Kojamo Group's new development projects are focused on areas with good transport links. New Lumo projects have been built in the 2010s throughout the Helsinki Metropolitan Area, along railway lines in districts including Leinelä and Veromies in Vantaa, as well as Kilo in Espoo, and along the metro in places ranging from Vuosaari in East Helsinki to central neighbourhoods such as Hermanni and Kalasatama.
Close to the sea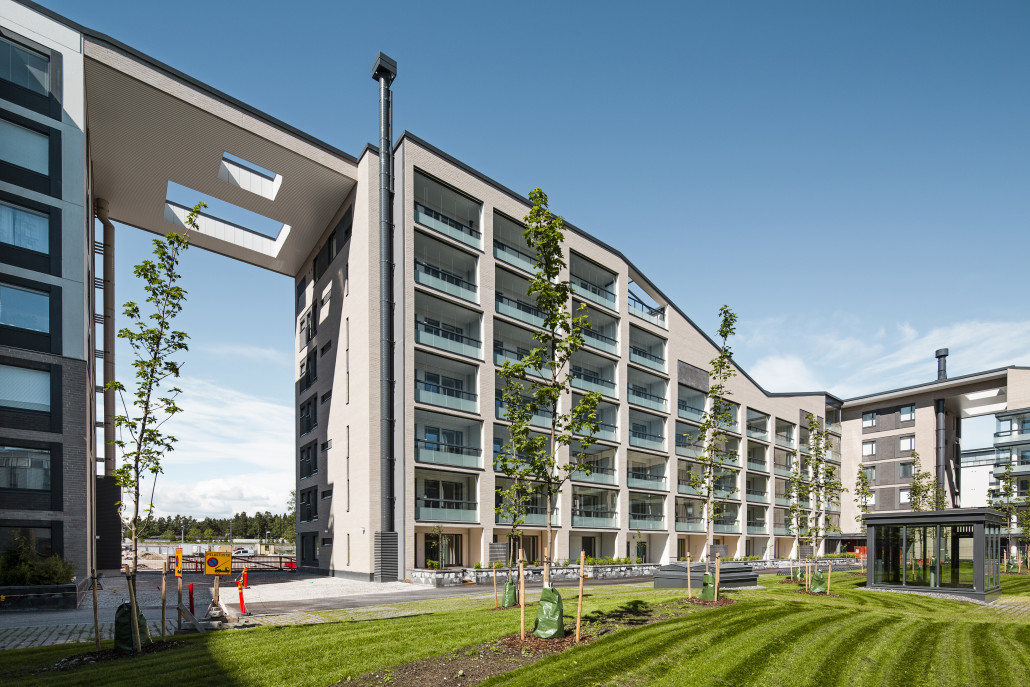 The Lumo apartments at Kahvipavunkuja 3 in Helsinki's Vuosaari district illustrate two significant trends in housing development. Completed in summer 2014, the 52-unit apartment block is within walking distance of Vuosaari metro station and the Columbus shopping centre, which gives residents easy access to both public transport and commercial services. Vuosaari is also a district where the sea and nature have a strong presence.
The other significant trend involves the repurposing of an old industrial district. The Kahvipavunkuja block was built where the Paulig coffee roastery once stood. The coffee is now roasted in a modern facility just a few kilometres away, next to Vuosaari Harbour.
The buildings that make up the Kahvipavunkuja block create a perimeter that encloses a comfortable and sheltered courtyard shared by the residents. The apartments on the ground floor have small terraces that come equipped with planting boxes for people who enjoy gardening. The apartments on the upper levels have glazed balconies. Luxurious sauna facilities are available to residents on the top floor.
Versatile housing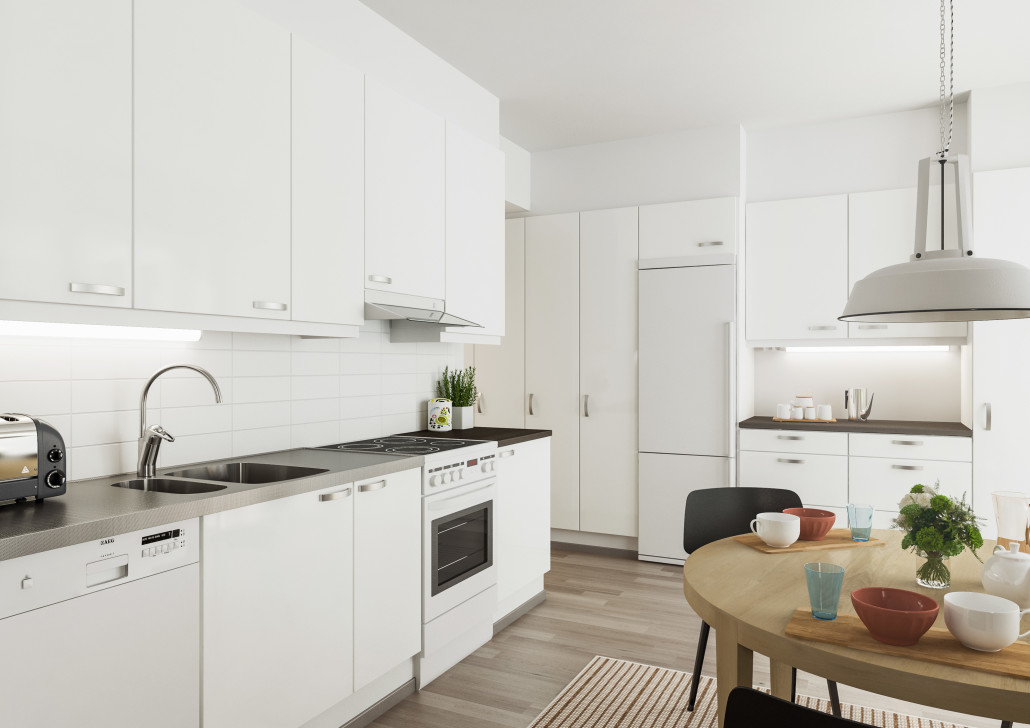 In 2014, 42 well-equipped Lumo homes were completed at Kilonportti 3 in Espoo's Kilo district. Located in a quiet area, the new building helps condense the old suburban structure.
Kilonportti 3 is a five-minute walk from Kilo railway station and one stop from the diverse services offered at the Sello shopping centre. Local services are available in the Kilo district. The area also offers easy access to excellent terrain for outdoor activities and the services available at Leppävaara Sports Park. The train to central Helsinki takes less than half an hour.
The Lumo apartments at Kilonportti include a range of sizes to suit various life situations, from 35-square-metre studios to three-bedroom apartments with a floor area of nearly 80 square metres.
Connected by the Ring Rail Line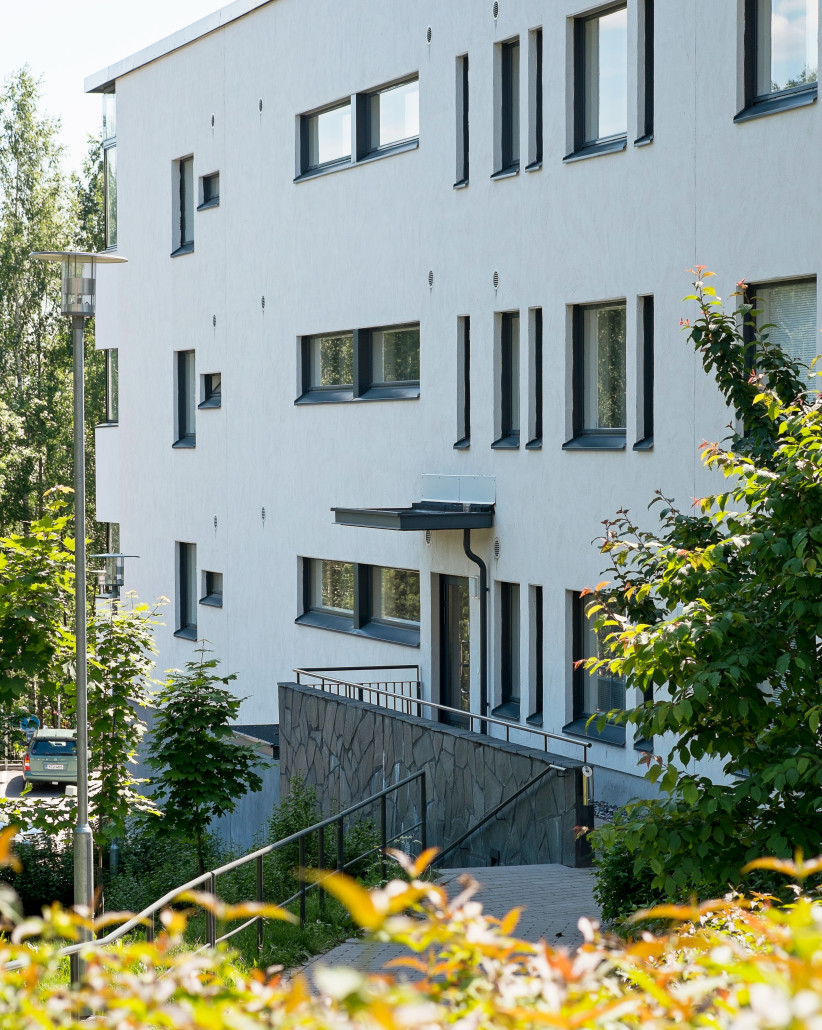 Completed in summer 2015, the Ring Rail Line connects the Martinlaakso line at Vantaankoski with the main line at Tikkurila. The Ring Rail Line improves transversal connections in the Helsinki Metropolitan Area and introduces a much-needed rail link to Helsinki Airport. In the first phase, five new stations were built along the Ring Rail Line at Vehkala, Kivistö, Aviapolis, Helsinki Airport and Leinelä. Of these stations, new Lumo homes are located in the immediate vicinity of Aviapolis and Leinelä.
Two four-storey apartment blocks and three apartment blocks ranging from six to eight storeys were completed in 2011 in Vantaa's Veromies district, one kilometre from the Aviapolis railway station. The apartments at Pyhtäänkorventie 21 include a range of different sizes and a large variety of floor plans. Veromies is a growing district that is already home to tens of thousands of jobs and apartments, as well as the Kojamo-owned Aerola neighbourhood, which surrounds 22 homes in listed terraced houses. Plans for the modernisation of these homes of high architectural value are currently in the works.
Aerola is characterised by its tranquil environment and proximity to nature, but a wide range of commercial services is only one kilometre away: the Jumbo shopping centre, the Flamingo entertainment centre and the services available in Pakkala, Tammisto and Tikkurila.
The buildings at Puunhaltijankuja 1 and 3 in Vantaa's Leinelä district stand out from their wooded surroundings thanks to their richness of colour and originality of architecture. Creating an attractive and comfortable living environment has been a high priority in Leinelä's development. The neighbourhood is decorated by various kinds of outdoor art.
The homes completed in 2012 were the first apartments in Leinelä. Two more Lumo projects have been completed in the neighbourhood since then. The growing neighbourhood of Leinelä complements the older district of Koivukylä, which is where residents have access to local services. Leinelä already has a day-care centre and a school, and commercial services are under development.
Author: Jarno Forssell, journalist