The former office building located in the centre of Helsinki, at Lönnrotinkatu 30, has been converted for residential use. The building underwent a complete renovation and now boasts 41 high-quality Lumo rental apartments. The new apartments will be completed on 1 February 2018.
The former office building located in the courtyard of a property in the city centre will have 41 new unique Lumo rental apartments. Lönnrotinkatu 30 consists of two separate buildings. The older building facing the street was completed in 1938, and its 73 apartments were renovated in 2004.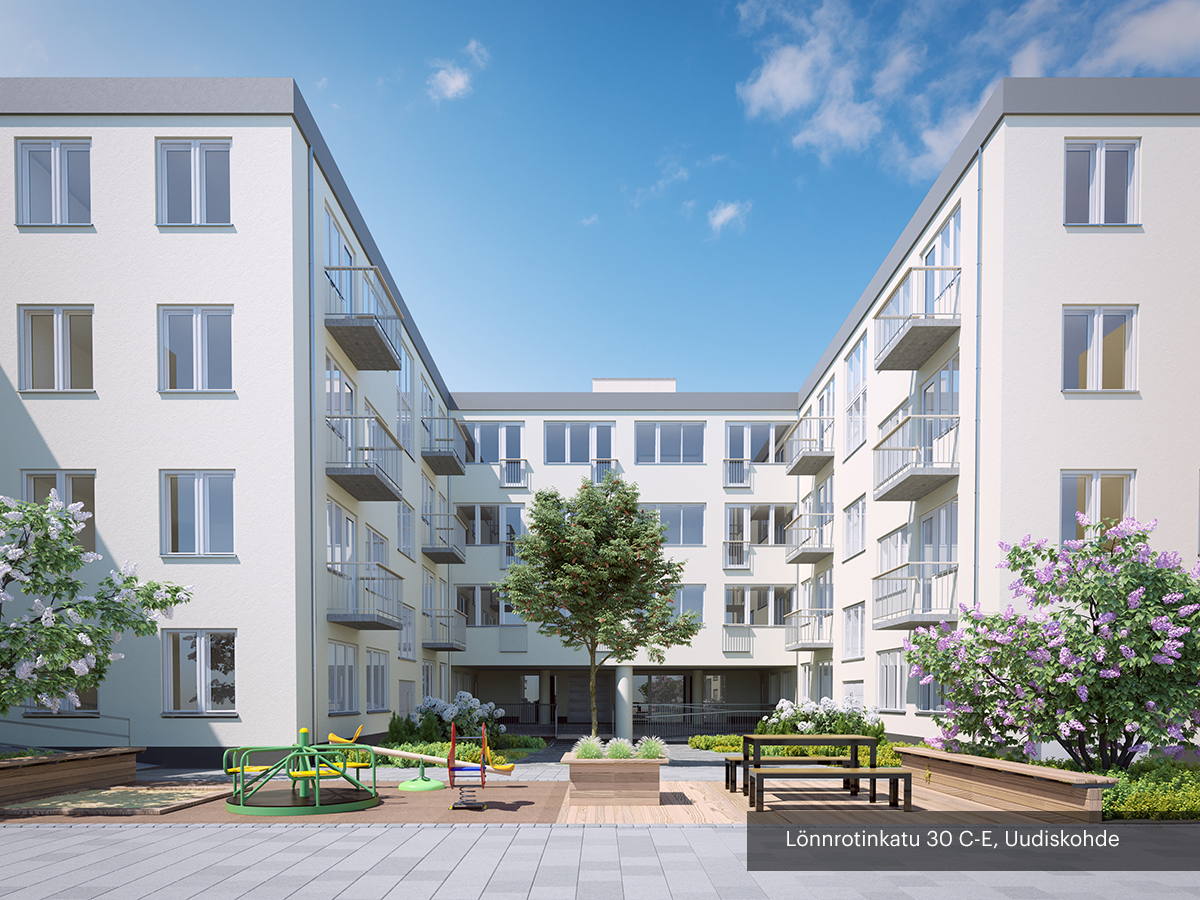 The sheltered courtyard between the buildings will be refurbished as part of the renovation. The courtyard will have a playground, benches and plants. Tenants will have common facilities that include sauna facilities; Lumo lounge, a modern club room; a washing room that can be used free of charge and a drying room. The residents of both buildings will have access to the new shared facilities.
The apartments in the building that is now being renovated will have high-quality and timelessly elegant Domus kitchens and attractive surface materials. The apartments will be equipped with domestic appliances such as integrated convection ovens, ceramic cooktops, dishwashers and fridge-freezers. The spacious tiled bathrooms will have furnishings from IDO and pleasant floor heating.
The renovated building will be smoke-free, as are all our newly constructed properties. In smoke-free buildings, smoking is prohibited in apartments, on balconies and in the common facilities.
The benefits available to Lumo tenants include broadband internet, which is included in the rent. Pets are also welcome in the buildings. In addition, tenants are offered a wide variety of resident benefits and events.
Read more and rent an apartment: https://verkkokauppa.lumo.fi/kohde/10789
Kojamo plc focuses on real estate investments in Finland, renewing rental housing in order to make it increasingly attractive. The vision of the housing investment company is to be a pioneer in housing and the number-one choice for customers.