Shopping centres built near transport nodes are like the parish villages of our time. They have nearly everything you might need in life. They often include grocery stores, specialty retailers, cinemas, restaurants, cafés, sports and fitness centres, medical clinics and hotels. The new shopping centres are a far cry from the large supermarkets located in areas that are only accessible by car. These new retail hubs are typically located along train or metro lines, and they function as the local centres of their respective districts. This growth in services has also created jobs in and around the shopping centres.
The first examples of shopping centres built along rail lines that create a pull factor for housing development and jobs are found in Espoo. Sello in Leppävaara and Iso Omena in Matinkylä are good examples of this trend. Today, there are shopping centres of this kind all across Finland.
The shopping centres are also used as locations for public services, such as social and health services, libraries and other cultural services, indoor swimming pools, municipal service points and, in some cases, even the chapel of the local parish.
Little wonder, then, that shopping centres also attract residential development. New apartments are constantly being built above and around new and modernised shopping centres. They are appealing to people who wish to live in a location that offers good access to services as well as excellent transport links. In the early stages, it was thought that senior citizens would be the typical residents of housing developments located at shopping centres, but these days they serve as the homes of people of all ages.
All parties benefit from the concentration of services. Good public transport links support environmental sustainability and mean that customers and local residents do not necessarily need to have a car. Nevertheless, parking is conveniently available for car owners in the shopping centre's indoor car park. Commercial services benefit from high customer volume, while municipal services are easy to reach when they relocate to where the people are.
Those who live above or around the shopping centre potentially have access to all the services they need simply by taking the lift downstairs. This is particularly convenient considering the Finnish climate.
Lumo apartments have been built at shopping centres and in their immediate vicinity in various locations across Finland. These include the apartments next to Entresse in Espoo and those adjacent to Willa in Hyvinkää.
A yard on the roof of the shopping centre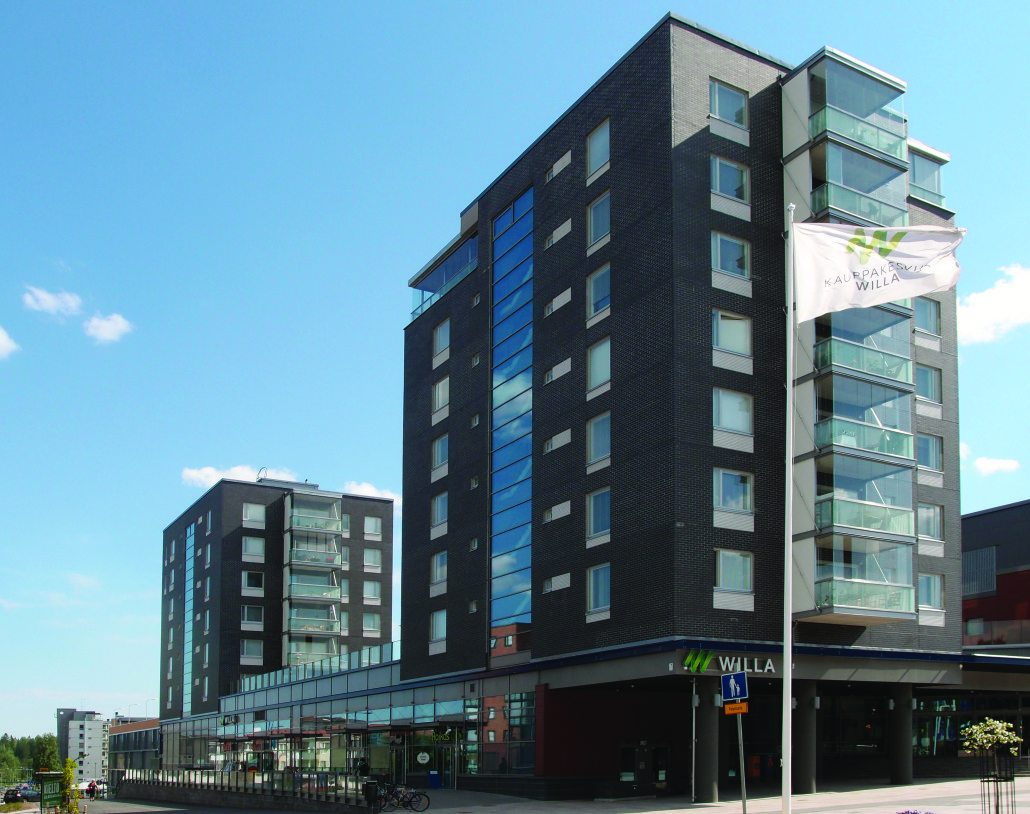 The Willa shopping centre was completed in 2012 in the centre of Hyvinkää, in a location once occupied by a wool mill. The shopping centre has 100 shops, office premises, parking for 1,600 cars and 5,700 square metres of apartments. Willa is the seventh-largest shopping centre in Finland. It is located in a new central block in the City of Hyvinkää, less than a five-minute walk from the railway station. The shopping centre's services are complemented by the Hyvinkää city library next door.
Two blocks of Lumo rental apartments were completed in 2013 next to the shopping centre, at Torikatu 7. The majority of the apartments are modern studios and one-bedroom apartments, with floor plans that are suited to a variety of life situations. Most of the apartments have glazed balconies, and the common facilities include saunas, drying rooms and storage space for outdoor equipment. Indoor parking is available in the shopping centre's car park.
The residents also have access to a 1,000 m2 yard built on the roof of the shopping centre. The primary material of the rooftop yard is dry peat brought in from forests. The yard is surrounded by a 1.5-metre-high glass fence that offers a nice view of the streets of central Hyvinkää.
Small apartments across the street from Entresse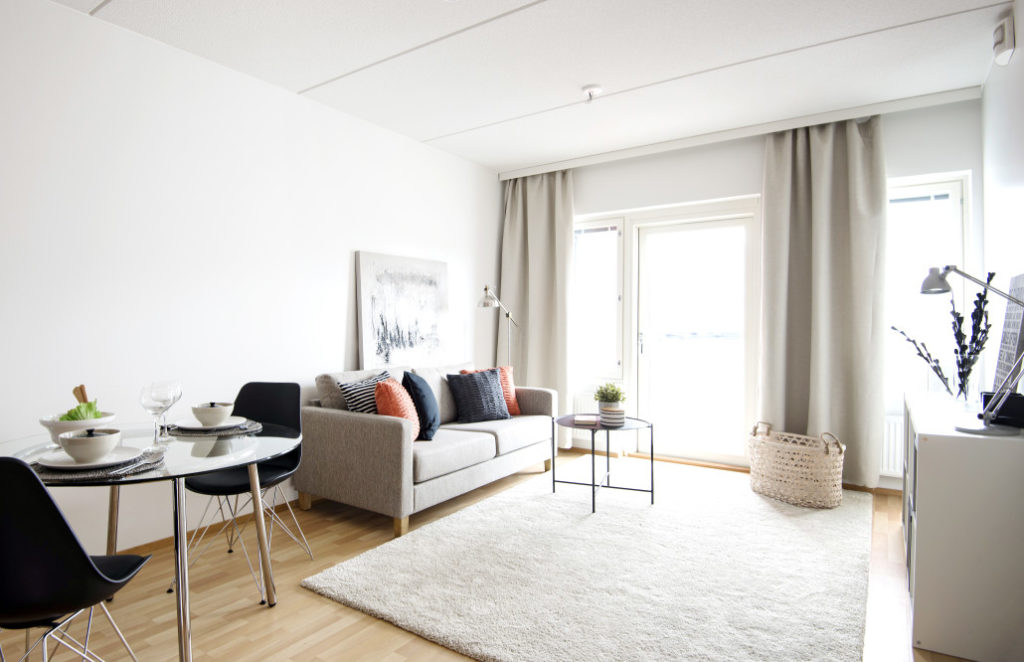 Completed in 2008 to the south of Espoo's central railway station, next to the older Espoontori shopping centre, the Entresse shopping centre has become the new heart of central Espoo. With 40 specialty stores, a supermarket and local library, Entresse brought a substantial increase to the commercial services available in the area.
The Lumo apartments at Asemakuja 1 were completed in 2011 diagonally across the street from Entresse, next to the Asemakuja 3 apartment block completed in the previous decade. As the plot was previously wasteland used as an unofficial parking lot, the construction of the new residential buildings helped condense the urban structure and bring new residents to a location with good infrastructure already in place.
The two buildings that make up Asemakuja 1 are comprised of 259 small homes, mostly studios and one-bedroom apartments. Asemakuja is one of Kojamo's largest projects. Finding tenants has been easy, as the location is excellent and the apartments are appropriately sized. The residents include many young people who appreciate the local services and good transport links to central Helsinki and other urban centres in Espoo.
Homes for consumers of culture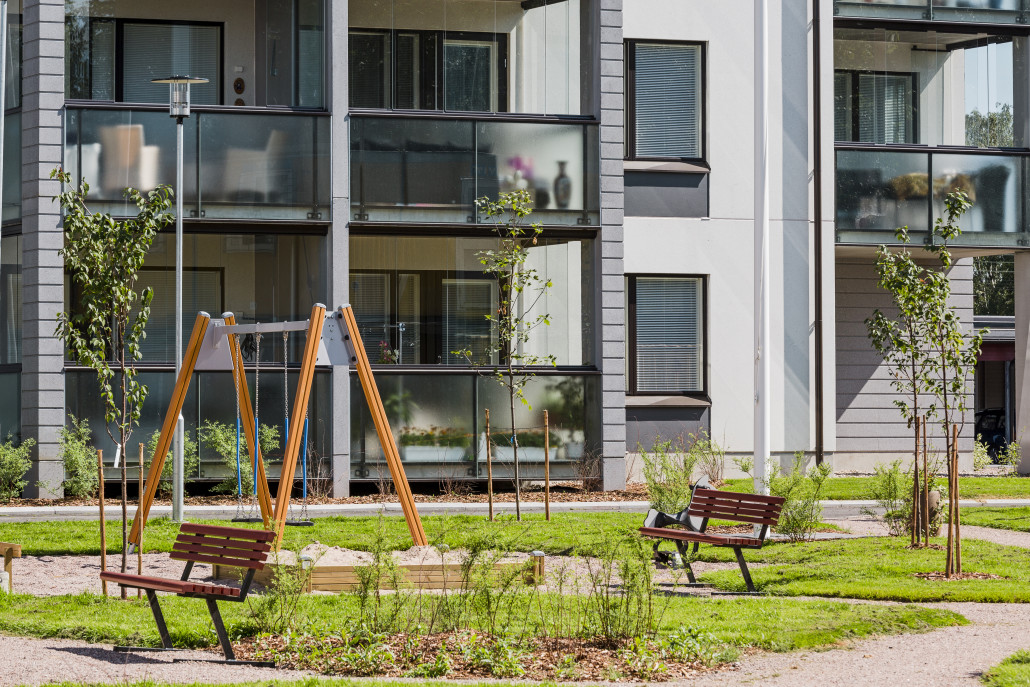 The Keinusaari district in Hämeenlinna is a great place to live for people who value excellent transport links, a diverse range of cultural activities and good opportunities for hobbies and recreation. The district is close to Hämeenlinna railway station, Hämeenlinna City Theatre and the culture and congress centre Verkatehdas. Verkatehdas has several restaurants and hosts various cultural events from concerts to art exhibitions and stand-up comedy.
The residential developments in Keinusaari help condense Hämeenlinna's urban structure and they also exemplify how areas previously used for industrial activity are converted to residential use.
The Lumo apartments at Hilpi Kummilan tie 16 are a five-minute walk from Verkatehdas and an equal distance from Hämeenlinna railway station. Completed in 2014, the five-storey building consists of 28 apartments of various sizes, each with stylish interior design and glazed balconies. Most of the apartments also have their own saunas.
The building also has good common facilities, including saunas, drying rooms and plenty of storage space. There is a playground and parking in the yard.
Author: Jarno Forssell, journalist