When you renovate existing building stock to create something new, you get the best of both worlds: all the latest technology, a sense of community and all the charm of the historic building. Kotkan pesä, Kojamo's latest Lumo homes development with a total of 59 properties, is in Kotkankatu, Helsinki.

Finland is on the cusp of a new wave of urbanisation. A number of studies have shown that people will increasingly choose to live in urban areas and new properties will be needed to meet this demand. Refurbishment projects and infill developments are the latest form of urban construction.
For some years now, Kojamo has converted old industrial and office buildings into Lumo homes.
From newspaper offices to private homes
The Kotkan pesä development in Alppiharju, Helsinki, is an excellent example of a Kojamo Lumo home.
The building, close to Helsinki's legendary Linnanmäki amusement park, dates back to 1957 and used to serve as newspaper offices and a printing press. Known as Lehdistötalo, or Journalism House, the building for many years served as a hub for political publishing activity.
The refurbishment project first began in the summer of 2014. In just twelve months, a total of 59 properties were created within the seven-storey building. The floor area of the properties ranges between 27.5 and 81.5m2.
Most of the properties are studios or one-bedroom properties with balconies. These reflect the demand in Helsinki: single households already make up 49% of all Helsinki households, with 31% made up of two-person households. Larger loft apartments were created on the top floor.
During the refurbishment project it was important to ensure that the building's charming historic features were retained, including the wonderful large and high windows. The stairwells also speak volumes about the property's past.
Cycling residents
The City of Helsinki has set its sights on increasing the number of residents who use cycling as their main means of transport from the current 6% to 10% in the next six years. The Kotkan pesä property already reflects this aim. The building offers no car parking spaces but excellent amenities are available for cyclists. The cycle storage area is accessible by lift and also offers facilities for bike maintenance.
There is also a focus on community, with both communal events and more ad hoc help and support on offer. The residents all know each other and the garden and other communal areas offer the perfect setting for socialising.
"What I really like about this building is all the shared facilities, like the garden, the spacious cycle storage area and the laundry room. We use them all almost everyday and they've almost come to feel like an extension of our own property," Susanna Länkilä, the chairwoman of the residents' association, explains.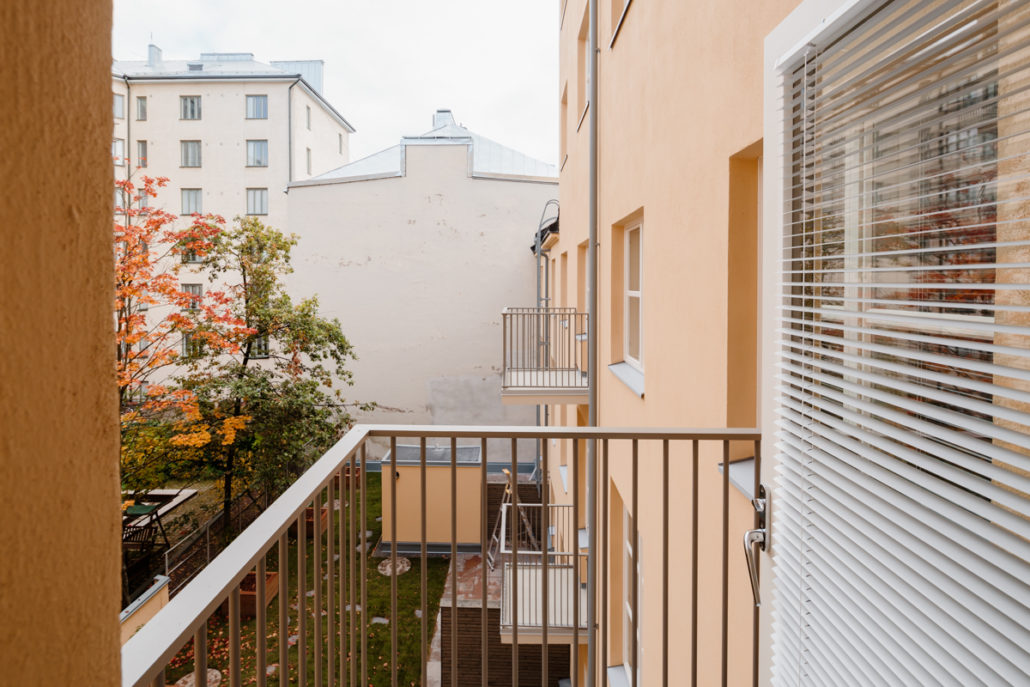 Refurbishment and change-of-use projects rising in popularity
Niina Savolainen, Research Manager at Kojamo is familiar with the new approaches to generating new residential housing stock.
"In Finland, we already have a lot of our flatted properties in place. New builds account for just a few percent of our annual output, with slightly higher percentages recorded in the Helsinki region and in areas seeing particularly strong growth. This is why renovation and change-of-use projects have become a well-established strategy for creating homes that offer the same standard as new-build properties," Savolainen explains.
Savolainen points out that such projects are a challenge for developers, designers and builders alike.
"The whole process is completely different compared with your standard new-build project. You can never have a completely cast iron plan for them, you will always have surprises. Some of the sites can be very difficult and challenging and you simply might not be able to add any further space. However, at Kotkankatu we were able to put in everything we wanted to," Savolainen says.
Successful and popular projects
When everything falls into place with a refurbishment project, the end product is a hugely desirable set of homes, such as Kotkan pesä.
"The Kotkan pesä-style properties are unbelievably popular, they sell out fast online the moment we market them.
Savolainen promises that further Kotkan pesä-style developments are already in the pipeline.
"The purchasing process and negotiations concerning more unusual sites always take longer. Sometimes a purchase might fall at the final hurdle, but I can assure you that we have more properties on the way. However, we won't release the details until we know that everything is set in stone," Savolainen says.
The resident's view
"I really enjoy getting stuck in with all the communal activities," Kotkan pesä resident Sanna Länkelä says.
"My partner and I have lived at Kotkan pesä since it was completed, which makes it about a year or so. This is our first home together.
We knew we were interested in Kotkan pesä straightaway, as we were looking for a property that had good transport links. The building used to be newspaper offices and a print press and it's only recently been converted into private homes. The stairwell still has that old industrial feel.
We have a 44m2,, one-bedroom flat on the lowest floor. It has really high, narrow historic windows that face out onto the communal garden. The garden has a really private feel; it's the kind of place where you can go and have a cup of coffee and read your book.
Lumo was also appealing to us because the deposit was reasonable and the water and internet charges are included in the rent. I think a large landlord will be able to provide better properties than a private landlord.
There's also a really great community feel here. We have a residents' association with about ten members. We've organised events and activities for all the residents. I'm officially the chairwoman, but that's in name only – I just really enjoy getting stuck in with all the communal stuff.
We even have our own Facebook group and it's been really well received. People use it for all sorts of purposes: some post to share their sauna timeslot with other residents if they can't make it themselves, while others might ask to borrow some tools. It's so easy!"
VVO Group plc offers rental apartments and housing services in Finnish growth centres. The vision of the housing investment company is to be a pioneer in housing and the customer´s number-one choice. At VVO Group, we will invest heavily in increasing our housing supply by 2021 by developing new properties and buying existing properties.